A perfect trip…….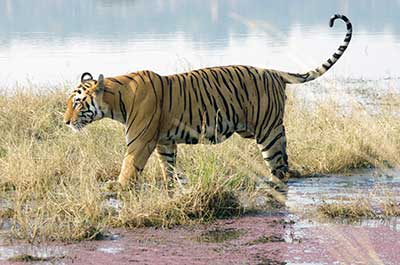 Client's express their gratitude –
India Trip
After our first contact with Paul (Dayson) of Spa Travel, we knew he was the right person to organise our very special holiday to India. Our main reason for this special trip was to see Tigers in there own environment, living freely with no constraints. This would make seeing them much harder we knew, so we chose to take 3 weeks and 21 drives in three separate reserves to give us the best chance with advice from Paul. However we also wanted to see "a bit of real India" as well, so after our reserve visits, sights like the Taj Mahal and the Pink city of Jaipur were requested to be included in the literary.
As soon as we landed in Mumbai we were met by a rep and driver who escorted us to our hotel and issued us with all the docs required for our trip. Everything was arranged for us and all we had to do was sign in and relax. This set the trend for the rest of the holiday, although we were "on our own" we had backup via a mobile phone 24/7. Transport for sightseeing was a very comfortable 4X4, which was also means of travelling around when train or plane was not appropriate to some of the more "remote " areas of MP and Uttar Predesh.
We were treated like royalty without being intrusive or oppressive, very difficult to do! OK we could have organised it ourselves and left a lot to sort out once in India but having advice from a friend who happened to do just that this year and found problems with transport, reserve drives etc. none of which we encountered and had the confidence that if we wanted for anything it was only a request or phone call away. In fact we changed our mode of transport to Jaipur from Bandhavgarh a day before we were due to leave from Train to 4X4. NO PROBLEM
Highlights really too many to mention all, but special praise has to go to Shail @ Singinawa and there staff who pulled out all the stops to get us views of Tigers (6 in all) within 20ft of the Jeep. To all staff at the Rambargh Palace Jaipur, best hotel we have ever stayed at and we are seasoned travellers.
This trip was special for several reasons, one of which it's the year of our 30th wedding anniversary and so we had booked Business Class Emirates, what can we say but superb.
A bespoke holiday went without a hitch and we are sure that the reason was because of Paul and his team's dedicated time and effort to make this happen.
Thank you really does seem small praise for such a memorable experience and a lifetime ambition fulfilled for me (Terry Holmes) of being with wild Tigers on no less than ten occasions, photos were just a bonus!
To Paul and all your staff we thank you sincerely.
Terry & Liz Holmes