Hollie has just been on a Girl's trip to Spain –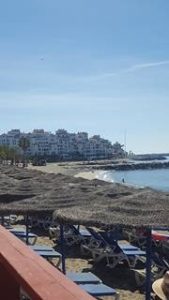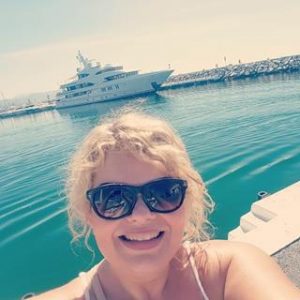 "I have recently returned from my own holiday to Marbella, Costa del Sol. I went on a girls holiday with 4 friends and found this area perfect for everything we needed – and the weather helped with sunshine up to 32 degrees every day and the sun on the pool area until 8pm at night! We stayed at the hotel H10 Andalucía Plaza in Puerto Banus. The hotel was perfect for us with spacious & modern rooms, good food with a variety of choice. It was only a 10 minute walk to the beach and a 15 – 20 minute stroll from Puerto Banus's buzzing marina area. However if you don't want to walk, 5 euros in a taxi will take you from the hotel to the marina front.
Puerto Banus is great day or night with an abundance of bars, restaurants and cafes where you can watch the mega yachts and luxury cars pull in and is the best place for 'people watching' I have ever been! There was a real mix of people with groups like ourselves, couples coming for a relaxing holiday and also a lot of families.You could have lovely walks through the day as it is very flat and easily accessible. The marina does come alive at night when the streets become full and the music begins to play. It has a very joyous atmosphere that will get you into the holiday spirit easily.
During the day at the Marina, I would recommend John Scott's which has a Pub feel but has prime position on the front and they do great coffee's or if you fancy something a little stronger they do the BEST strawberry daiquiris I have ever tasted! For a club recommendation on a night you can't beat Puerto Banus's flagship roof top club Pangea. With breath-taking views over the harbour and sea beyond it really is a magical place to spend an evening and into the early morning if you wish to dance the night away!
A restaurant recommendation would be La Sala Banus which is about 5 minutes from the marina area inland. I had the best seafood and steak there along with a great atmosphere. I would recommend asking for a table on the front terrace if available which is the best position and adds to the atmosphere of your evening along with live music and bands / singers which they have regularly there on an evening as well.
With daily flights from all UK airports most of the year round to Malaga and a flight time of only 2.5 hours it is a perfect choice for an easily accessible short break of 3 nights or a longer 1-2 week holiday as well. There is plenty to do elsewhere on the Costa del Sol, and day trips to Gibraltar or other areas of interest if you want to get out for the day. It is easy to fall in love with this area of Spain, so much so, that we have already started to plan next year's trip and I would recommend a visit anytime!
If you want any assistance in planning your holiday please feel free to email me hollie@spa-travel.com or call the office on 01937845678 and I will be happy to help."