Jackie's recent cruise with Fred Olsen –
"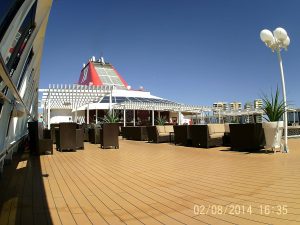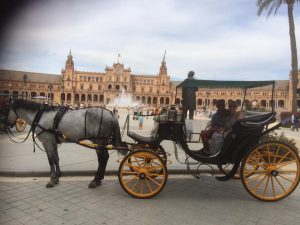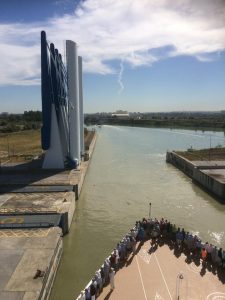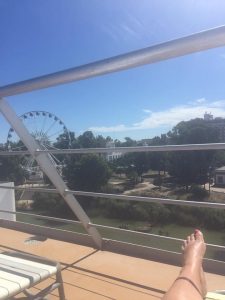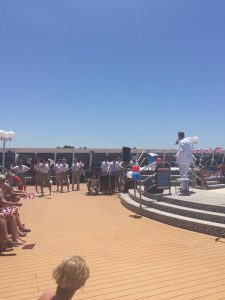 I have just returned from a very relaxing 2 weeks cruise with Fred Olsen. We sailed from Southampton which was a 5 ½ hour drive and stayed overnight at the Hilton the night before. We can get some very good deals for pre-cruise stays which include the car parking for the duration and a taxi to/from the port. It was such a relaxing start to the holiday with no airport stress! The embarkation process at Southampton was swift and easy and in no time at all we were on board unpacking. The cabin was clean and airy with a large picture window and ample storage (with no airline weight restrictions you can take the kitchen sink!).
The cruise we were on was 'Stepping into Spain' on the Braemar, and it called at Aviles, La Coruna, Portimao (Portugal), Malaga, Huelva, Seville & Vigo. I'd been to 3 of these places before but it is a different experience arriving by ship, especially Seville. I would say that Seville was the highlight of the trip as the ship is small enough to sail up the Rio Guadalquivir and dock right in the heart of the city which was a great experience. We stayed overnight in Seville allowing us to explore the city in the evening (it was far too hot during the day!). Sailing up and back down the river took a full day each way but was so nice. We saw really lovely countryside and wildlife. Wherever we went (except Malaga) it seemed that we were an unusual sight! There was always a crowd of people watching us, waving & taking photo's because although the Braemar is a small ship, it is still very large compared to the normal traffic in these small ports!
The ship itself is a nice size (approx. 900 guests) with a variety of bars, restaurants and entertainment. Fred Olsen cruises are geared towards mature British passengers seeking good value for money and decent hospitality.
We had a very relaxing 2 weeks and saw some very nice places. On the plus side, it was very nice travelling from Southampton rather than flying. However, the down side of this was that it took 3 days before we had some nice weather on the outward journey and the same on the return journey, although this wouldn't always be the case. The drinks package & wifi package were both very good value and the staff knew your name, preferred drink & cabin number after 2 days!
Would I recommend Fred Olsen Cruises? Definitely. For great service, good food and like-minded people on a very comfortable ship, you can't go wrong."