Wildlife, Volcanoes & Beach.
Recently I was fortunate enough to take a trip to the wonderful country of Costa Rica in South America. Positioned between North and South America and between the Caribbean Sea & the Pacific Ocean, Costa Rica offers a totally diverse eco system and a wonderfully varied landscape.  It has so much to offer the tourist that is looking for something 'different'.
I traveled with one of our preferred Tour Operators, Distinctive Americas. My journey began at Gatwick and a direct flight on BA to San Jose before heading out to Tortuguero. We explored the Braulio National Park and the backwater canals. There is such an abundance of wildlife here, crocodiles, Howler monkeys and snakes to name a few! After a morning exploring it was perfect to be able to relax by the pool.
Next was the Cloud Forest area with the opportunity to visit a Poas Volcano in the Poas National Park. Standing at 2700 meters it has wonderful views from above the clouds over the National Park but also the journey up & down from the summit has a feel of an Alpine valley which was totally unexpected. Here we stayed at El Silencio Lodge & Spa with an abundance of stunning hummingbirds! The heat was a total contrast and there were so many activities to enjoy such as hiking, fishing, horse-back riding.
Arenal Springs was the next stop and as the name suggests, there are hot springs all over this resort from the Arenal Volcano which provides a stunning back drop. Arenal is a town with lots of bars and restaurants and again there are many activities to choose from.
We continued on to our last stop which was Manuel Antonio which again offers a variety of things to do as well as the stunning beaches. Here in the National Park I saw my first ever Sloth in the wild as well as the white faced monkey. Again Manual Antonio offers a good town area if you wish to venture out and eat locally.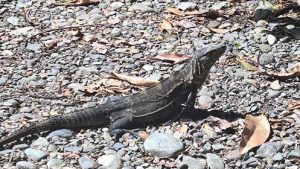 In a summary, Costa Rica is a fabulous country with wonderful friendly people, amazing wildlife, plenty of activities, great food, value for money and is great for couples, families, singles & groups.
If this sounds interesting to you and you want to find out more then please contact me on 01937845678 or email me at paul@spa-travel.com.