Only a few seats left…..!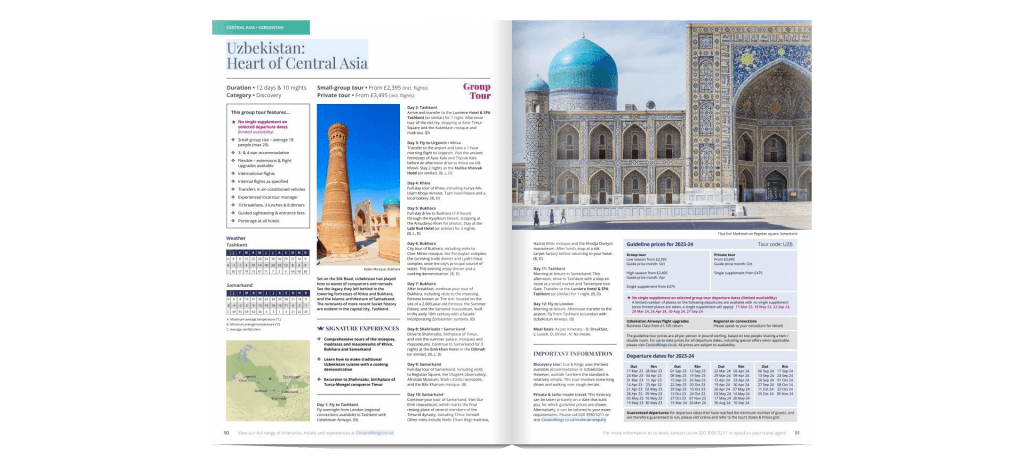 We have a Spa Travel group tour going to Uzbekistan on 12th May for 10 nights and have a few seats left.
It will be an AMAZING experience to this relatively unknown part of the world which is full of history. If you would like to know more about our tour then we'd love to hear from you, please call us on 01937 845678. Don't miss this chance to visit somewhere so fascinating!
A doubly landlocked country, Uzbekistan is a fascinating blend of arid desert, open steppe, lush oases and fertile river valleys. Despite the remarkable variation in landscapes, it's the ancient history and culture that makes this the most alluring destination in Central Asia.
Set on the ancient Silk Road, for centuries Uzbekistan was besieged by waves of traders, nomads and conquerors. The architectural legacy that remains is awe-inspiring. Visit intricately decorated mosques, madrasas and mausoleums as well as immense palaces and fortresses in Samarkand, Bukhara and Khiva, once some of the most powerful cities in the world. In the capital of Tashkent the more recent remnants of Soviet rule as well as a superb array of museums are equally fascinating.
The sights to be seen in Uzbekistan are like no other – a holiday here won't fail to enthral.