Travel Awards and Community Involvement
Awards and nominations from the Travel Industry that Spa Travel have received …
A huge thank you for all your support over the last year …
Because of this we have been nominated once again for the Top Small Independent Travel Agency in The North of England section at the Agent Achievement awards in London on The 15th April at The Dorchester Hotel In London.
We Got to the Finals!
Big cheers all round as we reached the finals of the Agent Achievement Awards 2012.
Not as great as 2009 or 2010, but nevertheless recognition of our hard work and commitment to both our customers and our suppliers.
JTA award Spa Travel Agent of the Month December 2011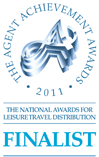 We're really trying hard and got to the finals!
A celebration hug was had by all, as we got to the finals of the Agent Achievement Awards 2011!
Still among the top travel agents in the country, were pipped to the post!
Director Paul Dayson accepting an award for sales with Royal Caribbean Cruise Lines.
Received on board the 'Independence of the Seas' Cruise ship.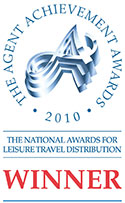 Spa Travel Does it AGAIN!
The 14th (2010) Agent Achievement Awards were celebrated in London … and we again won!
We received this award for Agent of the Month with flight consolidator JTA Flights for the most sales in a month in the UK.
Spa Travel win an award in the 13th Agent Achievement Awards
The 13th Agent Achievement Awards were celebrated at the Royal Lancaster Hotel in London on the 23rd April 2009 …

Paul Dayson of Spa Travel presenting cheque after Charity Function

We were very happy that the 2009 Holiday Roadshow was a great success, and are delighted that we raised £1590.00 for the 2 charities for which we were raising funds.